About Field to Table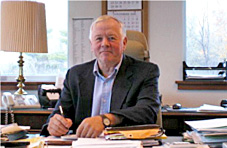 "I have known and worked with Field to Table for a number of years. Each of them has very special skills and has demonstrated the abilities to work with individuals on business and cooperative development projects in a number of unique environments. Some of the projects that we collaborated on include: developing a shellfish cooperative; developing business plans for several food cooperatives; a market study for a dairy cooperative; and assisting in the development of alternative energy businesses."
Roger Allbee, Former Vermont Commissioner of Agricultural Resources
Field to Table, Inc. (FTT) is a non-profit, collectively managed organization providing professional consulting services for small businesses and sustainable agricultural enterprises. FTT's diverse and extensive level of experience assists our clients to adapt and succeed in an increasingly challenging marketplace.
Who We Serve
FTT has provided in depth assistance to all segments of the sustainable agriculture community including: dairy; produce; livestock; aquaponics; nursery; and agritourism. We have served cooperative and other group-based businesses including: food, dairy, and shellfish cooperatives; agricultural plastic recycling efforts and community-owned businesses. We also have served worker owned cooperatives in the photovoltaic and tele-fundraising sectors. Our basic services include: business planning and development, marketing, renewable energy and energy efficiency, project management, research and analysis, technical assistance, training and legal services.
Our clients include cooperatives, corporations, LLCs, worker-owned companies, partnerships and sole proprietorships.
History
Field to Table, Inc. was launched in 2003 and incorporated in 2004 by Elizabeth Ahearn, Christine Serrentino, and Patrick Deluhery. Th e organization gradually grew to include Lynn DiTullio, a licensed mechanical engineer specializing in energy efficiency and renewable energy.
Support
Our work has been supported by grants and programs available through the United States Department of Agriculture Rural Development; the Massachusetts Farm Viability Enhancement Program; and through collaboration with the Cooperative Development Institute; Community Involved in Sustaining Agriculture; Franklin County Chamber of Commerce; Allbee and Allbee; and others, too.
NOTE: In accordance with Federal law and U.S. Department of Agriculture policy, this institution is prohibited from discriminating on the basis of race, color, national origin, sex, age, or disability. (Not all prohibited bases apply to all programs.) To file a complaint of discrimination, write to USDA, Director, Office of Civil Rights, 1400 Independence Avenue, S.W., Washington, D.C. 20250-9410, or call (800) 795-3272 (voice) or (202) 720-6382 (TDD). USDA is an equal opportunity provider, employer, and lender.